lemonade kid
Old Love

USA
9518 Posts
Posted - 21/08/2012 : 21:48:35
---
REDBONE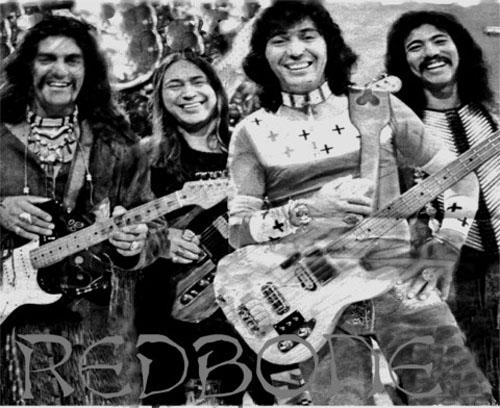 Come And Get Your Love...a really great performance on Midnight Special!
http://www.youtube.com/watch?feature=endscreen&v=U0J6vURwLSc&NR=1

Redbone is a Native American rock group that was most active in the 1970s. They reached the Top 5 on the U.S. Billboard Hot 100 chart in 1974 with the million-selling gold-certified single, "Come and Get Your Love".[1]


Originally from Fresno, California, brothers Patrick Vegas (bass and vocals) and Lolly Vegas (guitar and vocals) moved to Los Angeles in 1969 to form the group Redbone.[2]

The name Redbone itself is a joking reference to a Cajun term for a mixed-race person ("half-breed"), the band's members being of mixed blood ancestry.[1] The band referenced Cajun and New Orleans culture many times in their lyrics and performing style. Patrick and Lolly, who were a mixture of Native American and Mexican heritage, had previously performed and recorded under the stage surname Vegas, in part to downplay the Latin American association of their birth surname, Vasquez.[3] According to Patrick Vasquez, it was Jimi Hendrix - himself part Native American - who talked the musicians into forming an all-Native American rock group, and they signed as the band "Redbone" to Epic Records in 1969.[2] The band then consisted of Patrick Vasquez, Lolly Vasquez, Peter DePoe and Tony Bellamy. Their debut album Redbone was released in 1970.[2]

Prior to forming Redbone the brothers had some initial success as songwriters. In 1967 P.J. Proby recorded his only Top 30 hit "Niki Hoeky" by Jim Ford, Lolly Vegas and Pat Vegas. The next year, Bobbie Gentry performed the Cajun-influenced song on The Summer Smothers Brothers Show.[4][5]

Redbone played primarily rock music with R&B, Cajun, Jazz, tribal, and Latin roots. Their first commercial success came with the single "Maggie" from their second album, Potlatch, in 1970, and two other hit singles followed - "The Witch Queen of New Orleans" (1971, #21 on the Billboard Hot 100) and "Come and Get Your Love" (1974, #5 on the Billboard Hot 100). "Come and Get Your Love", written by Lolly Vasquez stayed in the Billboard chart for 24 weeks, and was awarded a gold disc by the R.I.A.A. on 22 April 1974.[1]

Lolly Vasquez was one of the first guitarists to make extensive use of the distinctive Leslie rotating speaker effect in his electric guitar amplification set-up. Vasquez played improvised, jazz-influenced guitar. Drummer Peter DePoe (born 1943, Neah Bay, Washington) is credited with pioneering the "King Kong" style of drumming, which features sharply accented polyrhythms involving the bass and snare drums and is similar to funk styles of drumming. The band referred to DePoe's "King Kong Beat" in their lyrics to the song "Prehistoric Rhythm" on their debut album.

In 1973, Redbone released the politically oriented "We Were All Wounded at Wounded Knee", recalling the massacre of Lakota Sioux Indians by the Seventh Cavalry in 1890. The song ends with the subtly altered sentence "We were all wounded 'by' Wounded Knee". It charted in several European countries and reached the #1 position in The Netherlands but did not chart in the U.S. where it was initially withheld from release and then banned by several radio stations.

You can't take the truth...



Original drummer Peter DePoe left to be replaced by Butch Rillera. Following this the band achieved much of their commercial success. Tony Bellamy (guitar, piano and vocals) left the band in 1977.[6][7] He died, at age 63,
in a Las Vegas hospital on December 25, 2009, as the result of liver failure.[9]

The band's current remaining membership is led by Pat Vasquez. Raven Hernandez (guitar, vocals and songwriter) joined Redbone in 1996 to replace Lolly Vasquez after he suffered a stroke that left him unable to tour with the band. Although Redbone has had some limited activity in recent years, their songwriting and touring output is slight compared with that of the early 1970s. A proposed reunion tour in 2003 did not occur. Evidence suggests the existence of an "imposter band" illegally touring the United States and posing as Redbone under the name (or alias) "Denny Freeman". Freeman - who Pat Vasquez confirmed to be unaffiliated with Redbone in an interview with the Montana Standard - defrauded the county fair board of the Butte Silver-Bow County Fair in Butte, Montana, under pretenses of being a co-founding member of Redbone, yet he was never a band member.[10]

Prior to forming Redbone, Pat and Lolly Vasquez released an album in the mid 1960s entitled Pat & Lolly Vegas at the Haunted House (Mercury MG 21059/SR 61059).[11] Of the twelve songs on the album, six were originals by the Vasquez brothers. Pat and Lolly also released several singles from 1961 to the mid 1960s. One of them was titled "Robot Walk" / "Don't You Remember" (Apogee Records A-101).

The first self titled album by Redbone was released as a double album in North America. In Europe it was released both as a double (EPC 67242) and as a single album (BN 26280) on the Epic label.

Their third album, Message from a Drum, was released in Europe (except Spain) with the title The Witch Queen of New Orleans and different cover than the one released in the U.S. and Canada.

One of the 1970s drummers, George Spannos, released his own hit album Passion in the Dark in 1983 under the name Danny Spanos, having a Top 40 hit single with "Hot Cherie".

Redbone was inducted into the Native American Music Association Hall of Fame in 2008.

On March 4, 2010, Lolly Vasquez died of lung cancer in Reseda, California....RIP, Lolly.

...........................................

We Were All Wounded at Wounded Knee
http://www.youtube.com/watch?v=2VB2LdOU6vo


Witch Queen Of Memphis....unique use of a drumstick!
http://www.youtube.com/watch?v=GHEuSGGmX-c




________________________________________________

HIGH ALL THE TIME...
-Mad River
http://www.youtube.com/watch?v=g0PCzH-K1hg