lemonade kid
Old Love

USA
9697 Posts
Posted - 08/10/2013 : 16:02:55
---
LUKE JACKSON--

More Than Boys...
http://www.youtube.com/watch?v=rWToue5A5ig

Luke is a rising 19 year old Roots singer/songwriter from Canterbury, Kent , and 2013 saw him nominated for both the Horizon Award for Best Emerging Talent and the BBC Radio 2 Young Folk Award. Read more about Luke here...


http://lukepauljackson.com/category/reviews/page/2/

This year Jackson was nominated in two categories at the BBC Radio Two Folk Awards - the Horizon Award for Best Emerging Talent, and the Young Folk Award.

For Liverpool Acoustic's Graham Holland, Luke Jackson's return to Liverpool carries a special meaning. "Luke is the reason Stuart Todd and I started our Liverpool Acoustic Live events back in February 2009. Luke asked me if I could get him a gig in Liverpool the day before he was due to play in Manchester. There wasn't anything suitable in the diary so we arranged our own night and booked Stephen Langstaff, Ali Ingle, Lizzie Nunnery, and 14 year old Luke Jackson. Young Luke impressed everyone that night with his distinctive voice, mature songs, and impressive stage presence. Stuart and I enjoyed the night so much we decided to make it a monthly event. I've been following Luke's career since he was 13, and when I saw he was arranging his own tour I jumped at the chance of bringing him back to the View Two Gallery."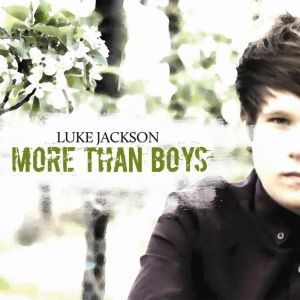 The stop-you-in-your-tracks debut album from teenage singer-songwriter phenomenon Luke Jackson, produced by the acclaimed Martyn Joseph, spells class through and through. 18- year old Luke Jackson proves he is one of the finest young emerging singer-songwriter talents in the UK with his remarkable debut album 'More Than Boys'.

With a show stopping voice and honed guitar skills, Luke is a confident and captivating performer demonstrating an astonishing maturity. The Kent teenager has been making ripples on the live acoustic scene supporting Show of Hands, Paul Brady, Chris Wood, Steve Knightley, Lucy Ward and Boo Hewerdine and playing Sidmouth, Bristol and Trowbridge festivals.
The 11-track album, produced by acclaimed Welsh singer-songwriter Martyn Joseph, is a riff- layered "rite of passage" CD that draws inspiration from memories of childhood camaraderie and looks to the future as a young adult ? by turns powerful, poignant and pop tinged. --propermusic



________________________________________________

Old hippies never die, they just ramble on.
-lk
---
Edited by - lemonade kid on 09/03/2014 18:07:03